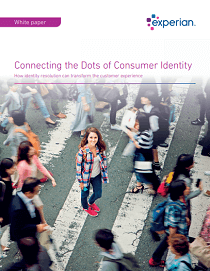 Download this insightful identity resolution white paper from Experian to find out why savvy marketers can no longer ask themselves if they should invest in an identity resolution solution, but when.
Excerpt:
Since identity resolution is table stakes for effective people-based targeting and analytics, it's important to understand the concept clearly. To put it simply, identity resolution is the ability to stitch together and unify the names, addresses, emails, device IDs, cookies and other identifiers associated with your customers. The end result is a single, persistent and privacy-safe customer ID that can be used by your entire organization to generate insights and deliver meaningful interactions.
To download and share, please complete the form at the right.