Having a slick on-boarding process can make all the difference and you don't have to break the bank to offer it.
We know that being a member-owned organization has many perks, but this does not typically include abundant or unlimited resources. Legacy loan origination systems or modules within core banking systems can often provide you limited capabilities, requirements for IT's help, or endless workarounds to meet your desired outcomes. By leveraging our SaaS loan origination platform, you can be rid of these challenges and on your way to increased loan approval rates, decreased risk of fraud, and improved member experience.
Enriched applicant information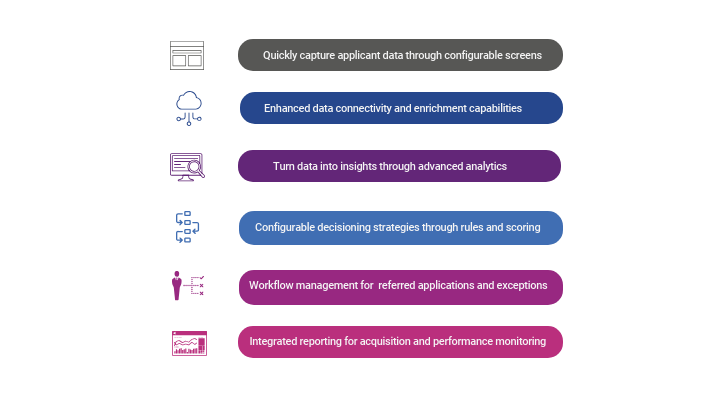 The problem
The market for financial products is increasingly crowded, making it more and more difficult to acquire new and profitable members and meet aggressive performance goals, all while meeting regulatory and legal requirements.
Large banks and fintech companies are investing heavily in new technology, which makes it challenging to keep pace.You need to drive change fast, with solutions that can be implemented in weeks, not months.
Your solution
SaaS loan origination solutions offer you the ability to stand out from the crowd, quickly capture applicant data, and bring intelligence to exception handling and member acquisition. You deserve and easier origination process, and your members deserve a better onboarding experience. After all, you only get one chance to make a first impression.
Reduce the need for manual processing
Decrease your dependence on IT resources
Make dynamic credit application decisions
Enhance member information with robust credit bureau data
Leverage predicative analytics to accurately detect risk
Acquire new members and increase portfolio profitability
Ensure you find yourself on the winning side of increasing competition by gaining a holistic view of your members to make better and faster lending decisions. Take weight off your IT team because your loan origination processes will be safely hosted by Experian, a trusted leader in the financial services sector. Flawlessly execute portfolio growth and acquire the right members at the right time to drive business success.